Mae Hong Son, the fantastic province in the west northernmost of Thailand, In ancient times the difficulty of transportation nearly cut off the province from the outside world but the breathtaking natural landscape, divermsity in culture, traditions and a simple lifestyle makes it a popular destination for world tourists. If a bike or car is your mode of transportation, here's an online Mae Hong Son Loop guide by Cat Motors.
Geography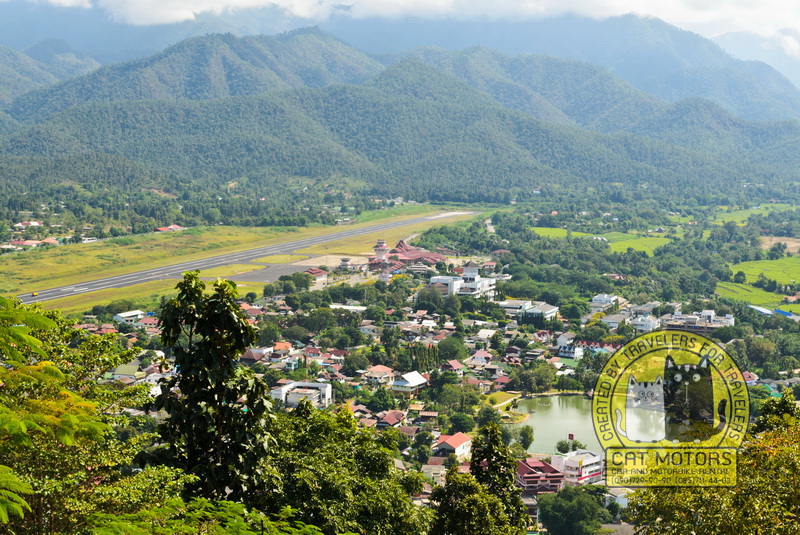 The mountain ranges seem like clouds touching north of Myanmar's border. The highest one is the Doi-Larn mountain of 1,918 m high. To the south is the district of Muang Mae Hong Son. The east is the district of Pang Ma Pha and the north and the south is the Shan State of the Union of Myanmar.
If you're traveling the Mae Hong Son Loop from Chiang Mai, be sure to take a look at our travel guide on the best Chiang Mai attractions
Climate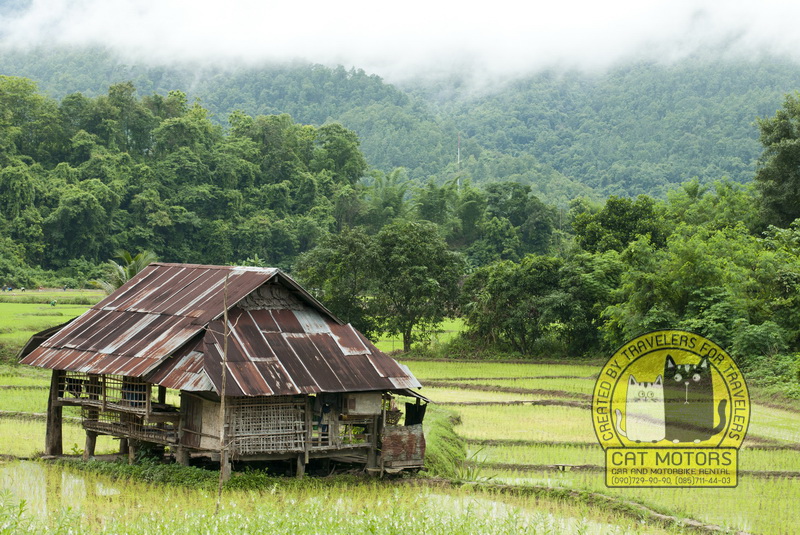 The climate in Mae Hong Son province has the typical tropical rainy season beginning from the middle of May, lasting till mid-October; influenced by the southwest monsoon blowing past the sea and the ocean bringing in humid weather. In August, the highest amount of rainfall is experienced. The winter from November till February is due to the high pressure of air from China. This decreases the temperature and may even cause droughts, especially from November to January. It is also the period which experiences the most amount of fog. The temperature is low with an average of 9 ̊C. Summer begins from the mid-February and lasts till the mid-May. In summers, the climate here is hot and humid. The highest temperatures are recorded in April, with the average temperature being 34°C.
Phraya Singhanartracha Monument
The first Mae Hong Sons ruler monument located on Khun Lumprapas road at the center of town. Phraya Singhanartracha or Shan Ka Lay the first ruler and the one who collected everyone to build a town in the name of Baan Khun Yuam in the Buddhist era 2417, Baan Khun Yuam was promoted to be a town and changed its name to be Mae Hong Son. The tourists can pay homage while on their way to town.
Mae Hong Son Walking Street
Mae Hong Son Walking Street is a small walking street which has a local marketplace by the Shan & hill tribes featuring souvenirs such as dolls, blankets, Shan & Hill dresses but also other products like Northern waving cloth & Burmese wood sculptures. This street opens from 6-10 in the evening.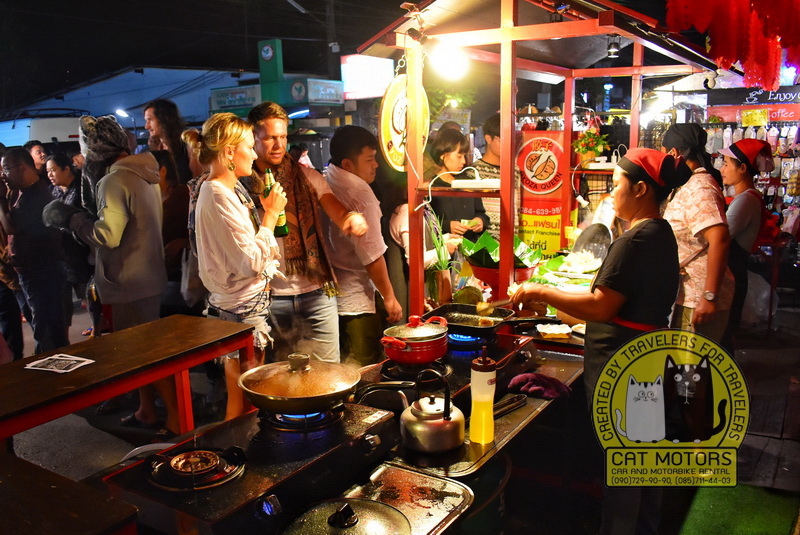 One can savor cuisines like Shan, Northern, Thai at a reasonable price. It has a humble crowd and a great ambiance of the Mae Hong San culture.
Nong Jong Kham Lake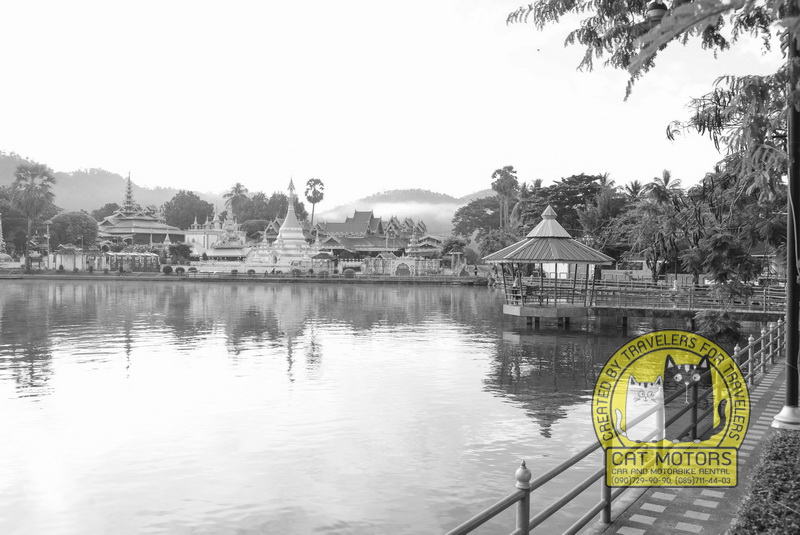 Nong Jong Kham Lake is a city park next to the well-known Jong Klang and Jong Kham temples. It is a natural water reserve and a recreation place for both locals and tourists. Nong Jong Kham Lake is still used to as an important place for local ceremonies and functions
Wat Phra That Doi Kong Mu Temple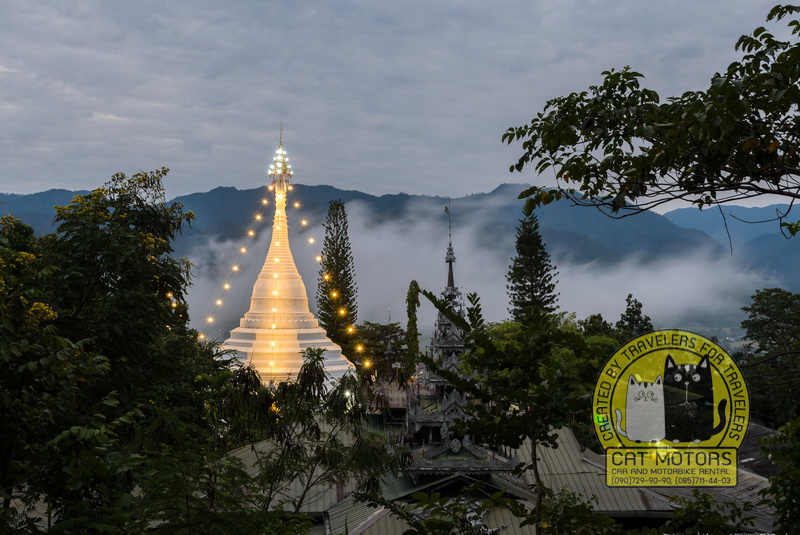 Located on a hill to the west of town, it is a major provincial landmark. The larger Burmese-style Chedis was built in 1860 while the smaller one in 1874.
Wat Phra Non Temple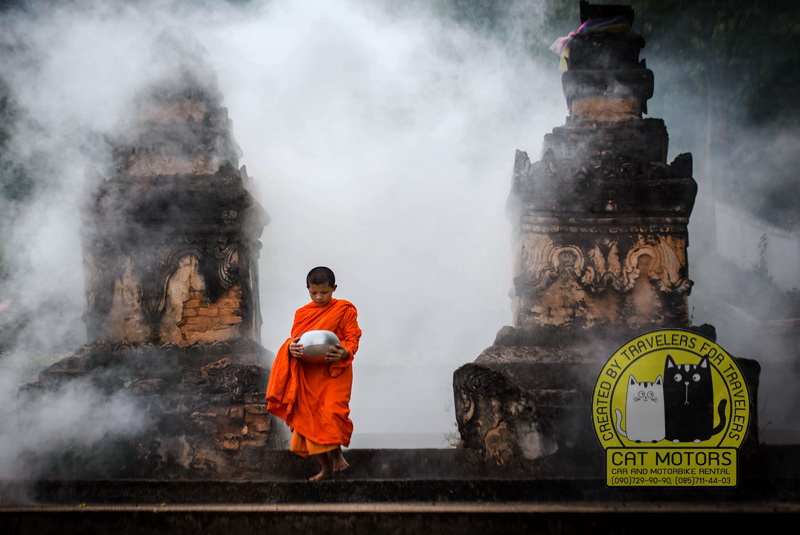 In 1875, the Phra Nang Miah built this magnificent temple, which houses a 12-meter long Reclining Buddha in the Thai Yai style and the ashes of Mae Hong Son kings. The two massive lion's stone lying side by side is a unique feature of this temple.

Wat Hua Wiang Temple
The temple Wat Klang Muang (another name) is on the Sihat Bamrung Road and was built in 1863. The Phra Chao Pharalakhaeng, a replica Buddha statue is a view worth consuming.
Wat Kam Ko Temple
The temple was built in 1890 and is a Burmese-style temple that serves the purpose of storing ancient scriptures written about Thai Yai history. One of the ancient dialect seen is the Kam Ko also called Wat Dok Bun Nak. There is an entrance to the chapel with a passageway covering it deemed as the significant point in the temple.
Wat Jong Kham Temple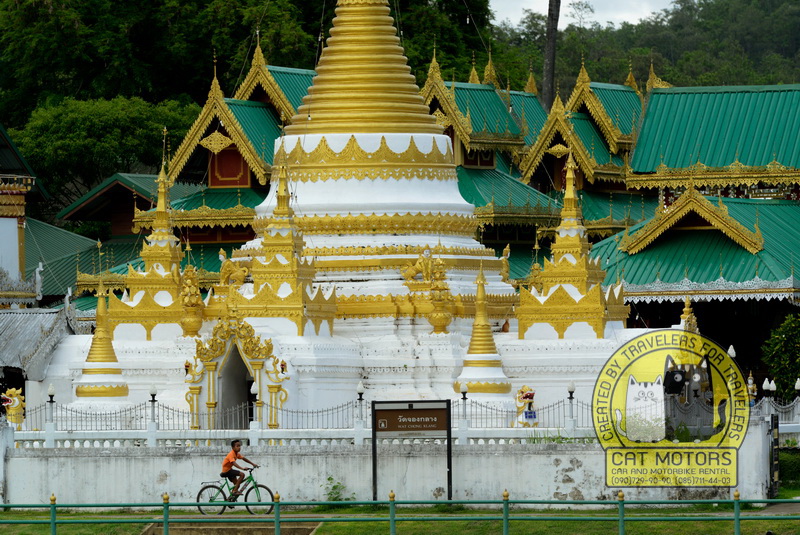 It is the first Burmese-style temple in Mae Hong Son, with pillars gilded in golden flakes, on the banks of the swamp Nong Jong Kam. There is a Buddha statue of 4.85 meters in width built in 1926. It is a replica statue of that in Wat Suthat in Bangkok built in 1827.
Wat Jong Klang Temple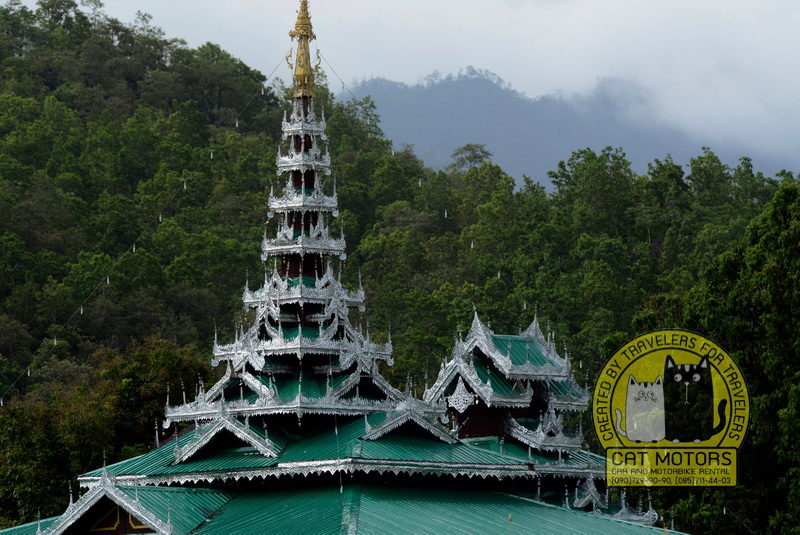 Wat Jong Klang is located next to Wat Jong Kham also called Twin Temple where a replica of the Phra Buddha Sighing is installed on an altar. Brought over in 1857, several interesting wooden figurines which depict the Phra Vejsandon Jakarta, several glass paintings about the Jakarta and Prince Siddharth. It was painted by Thai Yai artisans from Mandalay.
Morning Market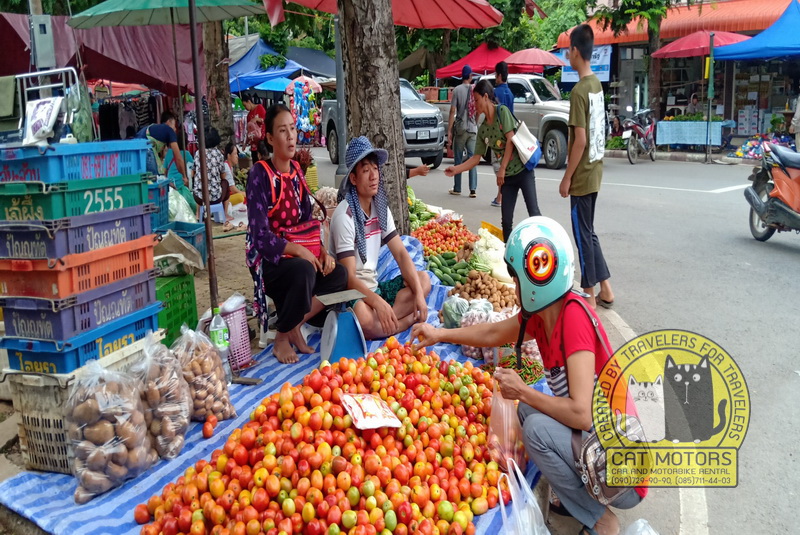 This cheerful market is packed from early morning till 9 am. It is located near Wat Hua Wiang on Sighanatbumrung Road. One can experience the true culture of the people and do a little shopping of the various local products sold there.
Mae Hong Son Royal Folks Art and Craft Centre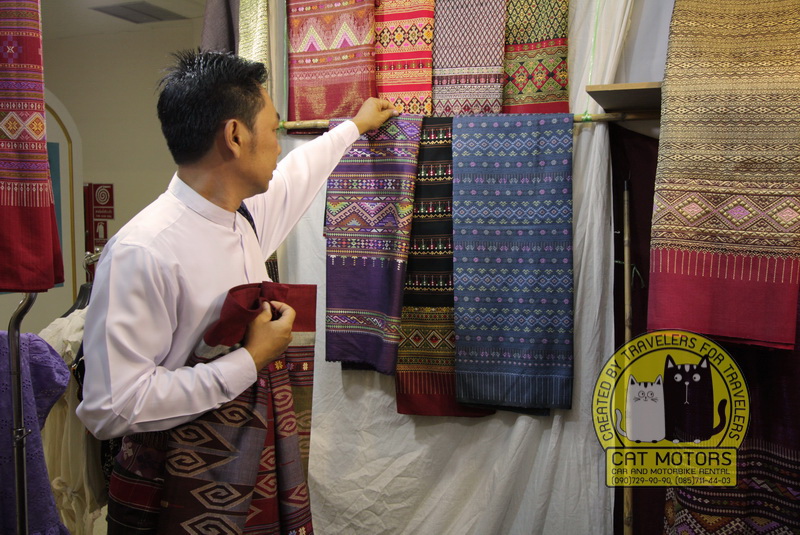 It is located on Khunlumprapas road and is open from 8 am till 4.30pm on Monday to Saturday and founded by royal queen Sirikit's in 1984. The Queen frequently traveled to Mae Hong Son to find sources of supplementary income and be the place of training, supporting occupation of the people throughout every race of hill tribes,help poor people and also raise the standard of living,at the same time it is the place producing basketworks, carving, silverware, and weaving cloth with unique details for sale to both tourists and locals.
Mae Saguad natural study route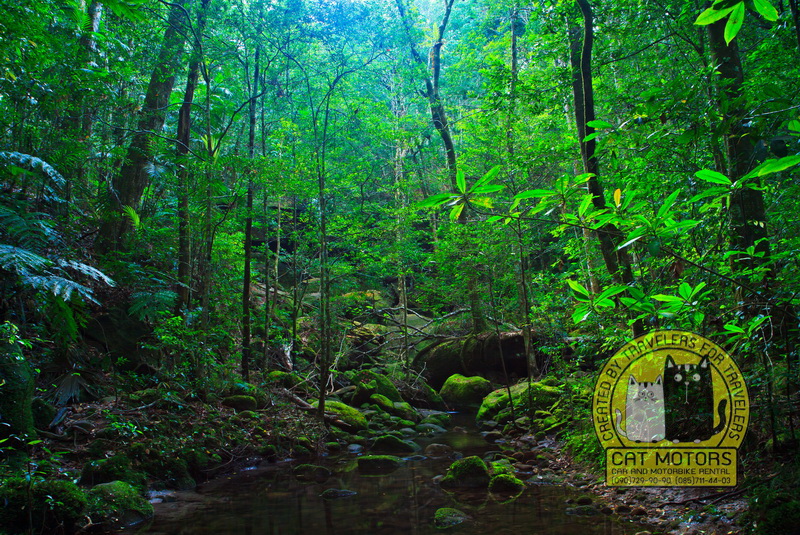 Situated at Mae Surin Waterfall National Park in Phabong sub-district, located 9km from Mae Sariang, this natural study route is controlled by the National Park Guard. It is located away from Mae Hong Son city, National Park Guard. The best view os along the edge of Mae Saguad watercourse for 2 km in a forest, with loads of signboard for guidance.
Pai River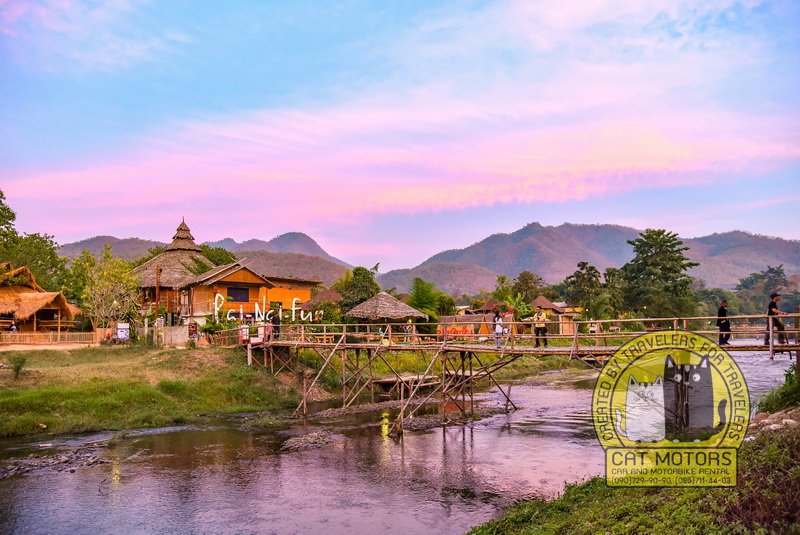 The Pai River located at Mae Surin National Park is an ideal place for family events and get-togethers. It has a wide mountain range, evergreen forests and compact with nature and fun. The beach hosts camping and bamboo rafting.
Tham Pla – Namtok Pha Sua National Park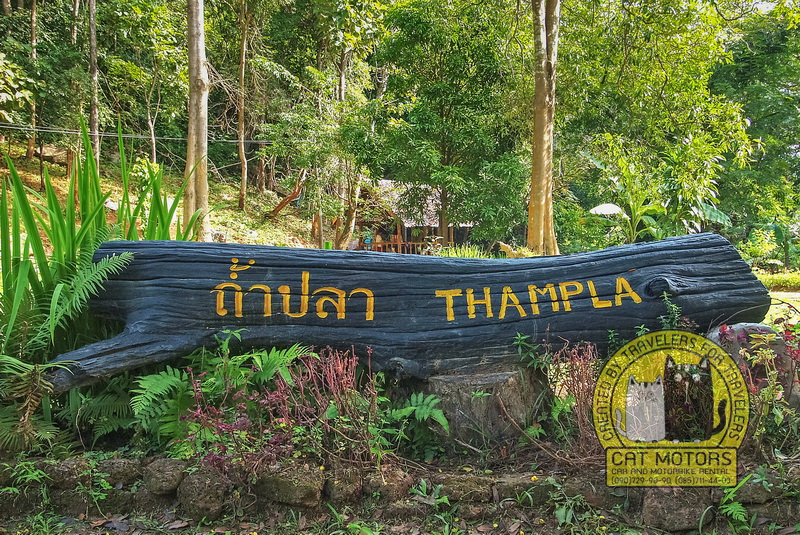 Tham Pla – Namtok Pha Sua National Park is situated on the right-hand side of Mae Pai national reserved forest in Pang Ma Pha sub-district with high complex mountains ranging from north to south which act as a source for streams and rivers. The Tham Pla (Fish Cave) and Namtok Pha Sua (Waterfall) are suitable for a perfect wind down and ideal for a long session of nature meditation. The park has an area of roughly 488 sq. km.
Fish Cave Tham Pla Forest Park
Tham Pla is on 17 kilometers on Highway No. 1095 to the town ideal for a visit in any season. The place is surrounded by flora and fauna, a heaven for nature lovers. A special feature of the place is a hollow cave or a small pond present inside a hollowed-out rock which is about 2 meters wide and 1.5 meters deep. Fishing is banned here as the worshipped fish called the Plaa Mung or Plaa Khang are considered holy.
Pha Sua Waterfall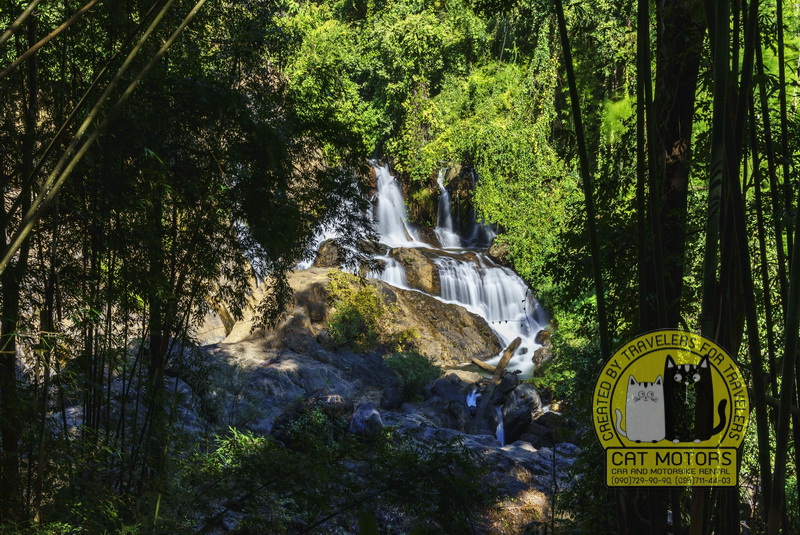 Within the Mok Cham Phae sub-district, about 17 kilometers from town, is the Pha Sua Waterfall on Route 1095. It is a 20 km journey from the village, ideal for a visit in August to September.
Ban Rak Thai (Chinese village)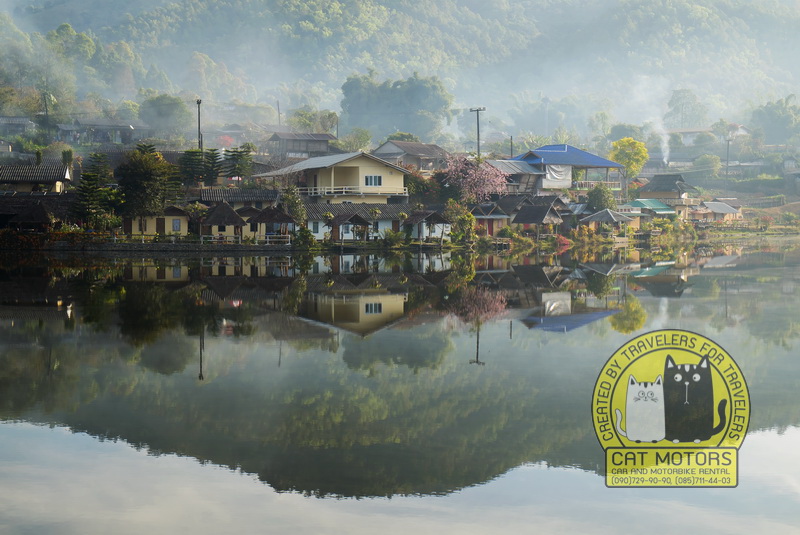 Situated in Mok Cham Phae sub-district – about 44 kilometers from Mae Hong Son – Ban Rak Thai is the last village founded by Kuomintang Chinese soldiers near the Thai-Myanmar border. Visitors can see its breathtaking sceneries and tea cultivation and even taste some delicious Oolong tea. The Tea Tasting Festival is held in February yearly at the Ban Rak Thai. It takes about 8-9 hours to get from Chiang Mai.
Ban Ruam Thai (Shan village)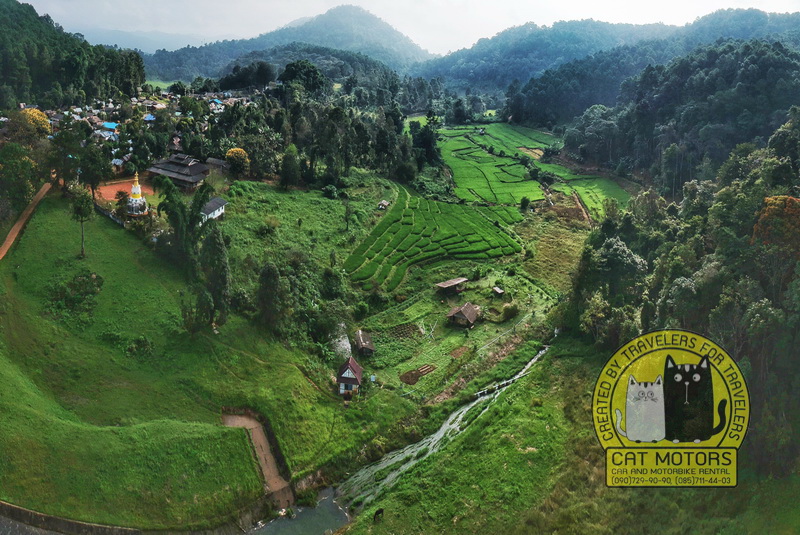 Ban Ruam Thai is at a distance of about 44 km from Mae Hong Son, lying on the route to Pha Sua waterfall. Tourists can meet people from the hill tribes and try fresh coffee from the field. There is also a place for camping and overnight accommodation within the forest and lake.
Pang Tong Palace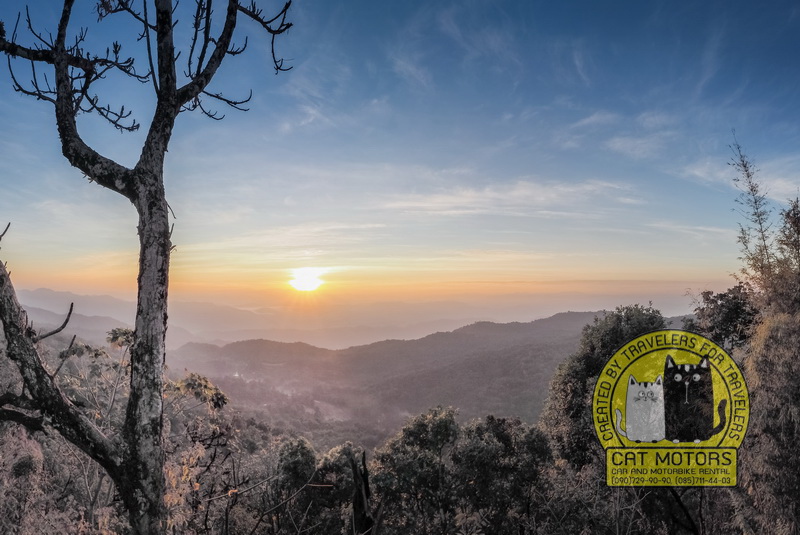 Pang Tong Palace is on the route of Huai Khan-Baan Na Pa Paek on the high mountain at Baan Pang Tong. Attractive scenery along both sides of the road accompanies the visitors. The palace has plots of land worthy of a visit to for a flower expo and provides for animal husbandry. The palace is located in Mok Cham Phae Sub district area.
Mae Hong Son Bamboo Study Centre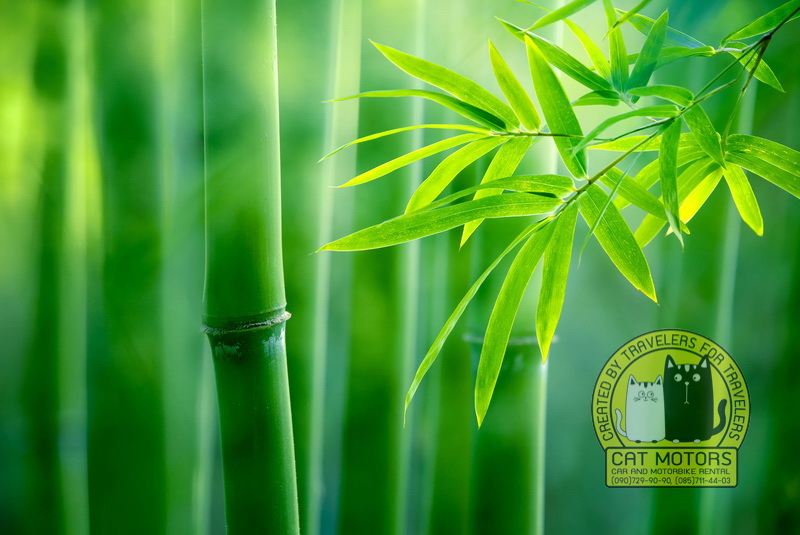 Located close to the Pang Tong Highland Development and Service Centre, this is an initiative of Queen Sirikit, under the proceeding of Mae Hong Son Province and the Ministry of Natural Resources and Environment of Mae Hong Son. It serves as a novel eco-tourism place, embodying a unique character of Mae Hong Son. It covers 300 rais of land, including land with 6 natural species of bamboos – and other beautiful, and typical flora and fauna of the country- along with the Pang Tong Brook, the natural water resource which provides plenty of water.
Huai Pong On Waterfall
Situated in Fish cave –Pause Waterfall National Park, Huai Pong On Waterfall is a small waterfall with water flowing all year round. Often visitors can enjoy a pleasant bath at this location.
Baan Nam Phiang Din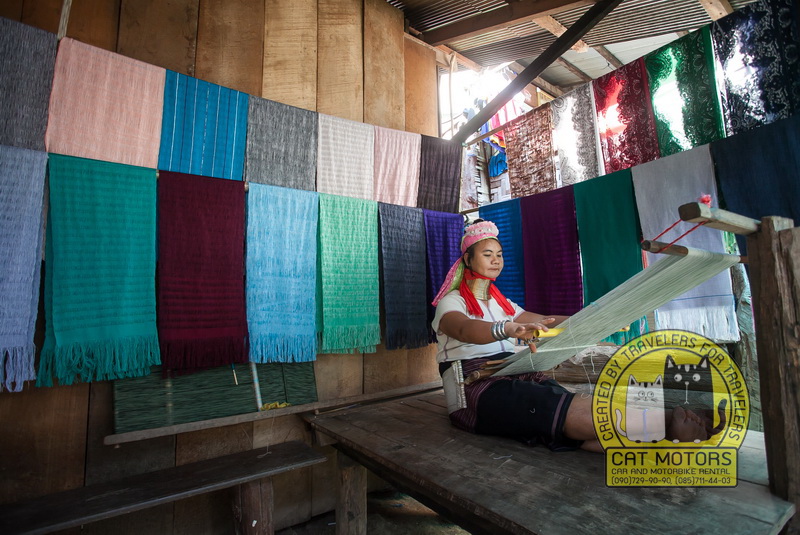 Navigating the river on a boat is the most popular option as it is a village situated near the Thai – Myanmar border in Pabong sub-district. The tourists have to go on board at Baan Huai Dua port, after which, the boat moves along the river Pai which overlooks pleasing sceneries, full of mountain ranges, and mixed deciduous forest along both sides of the river. Throughout the river journey, the tourists pass and see lots of beautiful descending ripples. Most tourists visit the Baan Poo Gang to greet the Padaung or Long- Necked Kayan Tribe on the way.
Phabong Hot Spring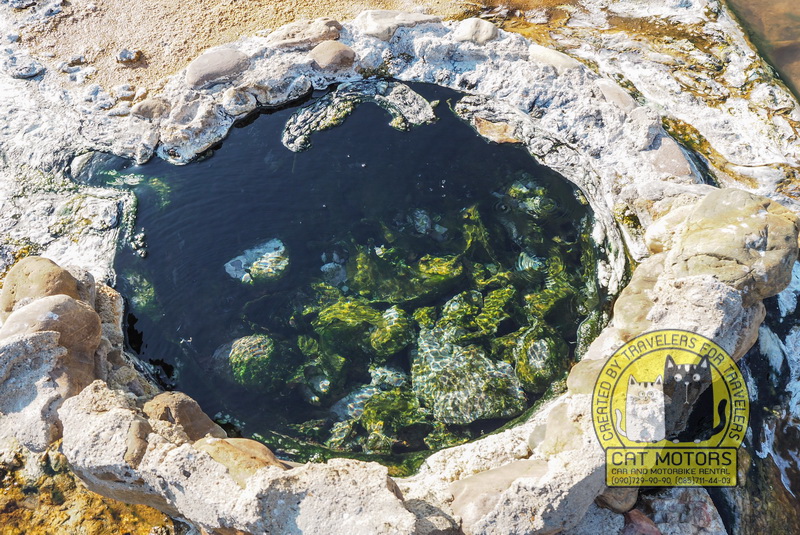 The hot spring is especially popular in the winter season when a lot of people visit to seek respite from the biting cold. It is 10km from the town. There is also a beautiful park in the area, to provide a place for the tourists to relax.
Phabong Waterfall
Also known as Dumkawn, Phabong Waterfall is a small waterfall located 12 kilometers from Mae Hong Son Province. It is a unique and exceptional waterfall and is open to tourists throughout the year.
Baan Yod Doi
An alternative name is the Meo Micro web Village where tourists can travel along Mae Hong Son – Khun Yuam route, which is an 8 km long, steep asphalted road towards Hmong village. The residents of the Hmong village have, to this day, managed to preserve their culture and traditions. The landscape features steep mountain ranges descending beautifully step by step, enveloping and distancing the simple lifestyle far away from any civilization, and thus serves as an attraction to tourists.
Baan Rung Arun
It is a Chinese Yunnan village that settles in the valleys of tall mountains. It is located 30 km from the Mae Hong Son Muang district. The village provides magnificent scenery -quite unlike anywhere- owing to its location in the valley. Here, the tourists can observe the culture of the villagers, and even make a visit to Tham Wua Temple nearby which features equally breathtaking views. For the tourists to have adequate time to sufficiently take in the whole of the scenic wonder, therefore, the villagers have even made arrangements for overnight accommodation, in Home Stays.
A few words in conclusion
Mae Hong Son, the fantastic province in the west northernmost of Thailand,In ancient times the difficulty of transportation nearly cut off the province from outside world but the breathtaking natural landscape,diversity in culture,traditions and a simple lifestyle makes it a popular destination for world tourists.If bike or car is your mode of transportation, here's an online guide by Cat Motors – https://catmotors.net/routes/mae-hong-son-loop/
A beautiful scenery, complex mountain range, fertile forests and lots of islets and cataracts await your challenge.